The podcast this week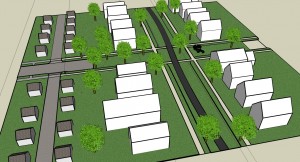 is a conversation with Dacia Durham and Matthew Hendricks, leaders of the Twin Cities Greenways project on Minneapolis's North Side. The Greenways initiative is aiming to build a series of greeways, or pedestrian and bicycle streets through Minneapolis and Saint Paul, that would give people transportation options similar to the successful Midtown Greenway in South Minneapolis. They are currently working on building support for a north-south greenway through the city's North Side, along Irving and Humbolt Avenues, that would connect the north side to downtown Minneapolis. Dacia, Matthew, and I sat down a few weeks ago at the MacPhail Center for the Performing Arts during the last snowstorm of the year to talk about what a greenway looks like, where the idea came from, and how the community engagement process has been going.
The audio is here, and you can ride to the end of the podcast road at the feed.