[content warning/trigger warning: gun violence, police violence, murder, anti-Black and anti-Native abuse, r*pe, assault]
1821
The Metropolitan Police Department, the first municipal police force in the world, is created in London. The first American police force forms in Boston 17 years later.

1867
Minneapolis incorporates and the City Council establishes the Minneapolis Police Department, which takes only 36 years to earn the title "The Shame of Minneapolis" due to its legendary corruption and racketeering.
1903
The Citizens' Alliance, a rightwing group representing downtown business interests, forms and spends the next half-century increasingly cementing the Minneapolis Police Department as its personal militia for enforcing anti-labor interests.
1934
Minneapolis police open fire downtown during the Minneapolis General Strike and kill two workers on Bloody Friday. Downtown business interests later invent Aquatennial to overshadow the annual "Teamster Picnics" celebrating the successful strike.
1963
The first Civilian Review Board is established and fails to create meaningful structural change, the same outcome as any other reform-based approach to follow.
1968
Fed up with racist police interactions, community members form the Black Patrol, Soul Force and AIM Patrol to intervene and de-escalate potential violence. After AIM Patrol's first six months, the percentage of the Native population in jail dropped from 70 percent to 10 percent. Community patrols predate the police and continue to this day.
1989
Minneapolis police kill Black elders Lillian Wallace and Lloyd Smalley during a botched SWAT raid, a not-uncommon occurrence that "tarnished" the city's image. Enraged residents, including the current Minnesota Attorney General, demand reforms.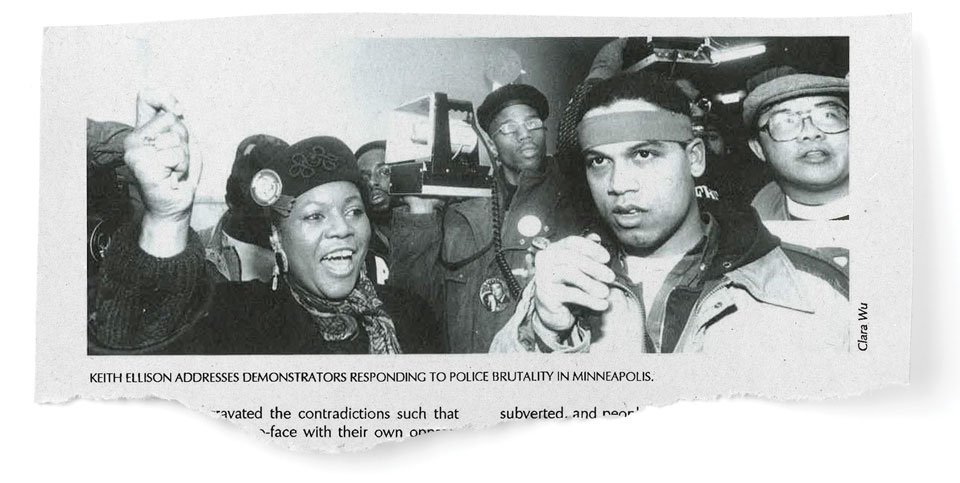 1990-1991
In response to a call, Minneapolis police shoot and kill 17-year-old Black resident Tycel Nelson as he is running away. Enraged residents demand reform. Violent crime peaks in Minneapolis and America and steadily declines for the next three decades without interruption.
1992-1993
Metro Transit police severely beat an elderly Black man for lack of fare, and furious youth later ambush and kill Minneapolis police officer Jerry Haaf. The Minneapolis Police Department begins terrorizing residents, using tactics including Rough Rides of Native residents, kidnapping, rape, extortion and opening fire at Little Earth.
2006
In response to a call, Minneapolis police shoot unarmed Black resident Dominic Felder in the back, killing him in the midst of a nervous breakdown. Later that year Minneapolis police run over 19-year-old Hmong resident Fong Lee on his bicycle and shoot him 3 times in the back, then shoot another 5 times more as his body lay on the ground. The officer involved is acquitted.
2007
Five Black Minneapolis police officers – including the current Chief of Police – sue the department for racial discrimination, settling with the city for a record $2 million. The majority of the money is earmarked for (but not required to be spent on) "reform."
2010
In response to a call, Minneapolis police kill 28-year-old Black resident David Smith in the midst of a mental health crisis downtown, suffocating him to death under a prone restraint. Later that year Hmong resident Jason Yang dies under mysterious circumstances after encountering the Minneapolis police downtown at bar close. Violent crime in Minneapolis bottoms out and remains at historic lows throughout the decade.
2013
In response to a call, Minneapolis police corner unarmed 22-year-old Black resident Terrance Franklin in a Lyn-Lake basement, shoot and kill him. An hour later Minneapolis police run over and kill resident Ivan Romero in the intersection of 26th and Blaisdell while on the way to the scene. The then-new (lesbian) Chief of Police, who had previously sued the department for sex discrimination, says reform is coming.
2014
#Pointergate becomes the first baseless local performative law-and-order outrage in the new Black Lives Matter era. Glen Taylor, a North Mankato-based downtown Minneapolis sports billionaire, purchases the local paper of record, promising a deliberate rightward lurch over time.
2015
Minneapolis police kill 24-year-old Black resident Jamar Clark, shooting him in the face in response to an ambulance call. Residents occupy the nearby Fourth Precinct for the next 18 days to protest and build community, during which the Minneapolis police point assault weapons in the faces of current and future City Council members.
2017
In response to a call, Minneapolis police shoot and kill 40-year-old white resident and Australian national Justine Ruszczyk Damond, sparking international outrage.
2018
In response to a call, Minneapolis police shoot and kill 31-year-old Black resident Thurman Blevins as he is running away. Six months later Minneapolis police shoot and kill 36-year-old Black resident Travis Jordan in his front yard during a welfare check. Three weeks later the City Council votes down the mayor's request to increase the police budget by $12 million annually, choosing instead to invest in upstream safety measures.
2019 (according to the Minneapolis-based Star-Tribune)
March
Thursday, March 7, 5:52 p.m.
Cutting police budgets is not the way toward equitable communities
By Editorial Board
Statistics show that cutting police budgets is likely to backfire on cities.
 
— n.b. statistics quite clearly show the opposite
 
Tuesday, March 12, 10:26 p.m.
Minneapolis police chief reiterates desire for department to grow to 1,000 officers, despite resistance
The issue of understaffing resurfaced at a public meeting in the Cedar Riverside neighborhood last week.
 
— n.b. the article states the police can't even fill current openings, let alone an expanded force. Where, exactly, does that extra money go?
 
Thursday, March 21, 6:10 p.m.
Editorial counterpoint: We must look beyond police for community safety
By Tony Williams, Leilah Abdennabi and Sheila Nezhad
It's time to put more emphasis on prevention efforts. A police-first approach isn't effective, has been marred by violence and fails to address underlying causes of crime.
 
— tl;dr at $189 million/year the police cost more than the Health Department, Department of Civil Rights, and Community Planning and Economic Development combined
---
April
Friday, April 12, 6:38 p.m.
Counterpoint: Adding cops could satisfy seemingly different interests
By Steve Cramer
The case for a larger force lies in better, not more policing. That could help strengthen communities and police-community relations.
 
— n.b. four months later this author, a private citizen, singlehandedly closed off a public sculpture downtown with no public input or approval, nor any penalty or recourse for doing so
 
Thursday, April 18, 10:35 p.m.
Minneapolis to ban 'warrior' training for police, Mayor Jacob Frey says
Mayor Jacob Frey made the announcement in his State of the City address.
 
Wednesday, April 24, 9:28 p.m.
Minneapolis police union offers free 'warrior' training, in defiance of mayor's ban
Police federation says the Minneapolis mayor's ban on training is illegal.
 
Thursday, April 25, 6:07 p.m.
Editorial counterpoint: Not well-named, maybe, but 'Warrior Training' is highly valuable
By Richard Greelis
Friendly cop-citizen contacts are the routine. This training simply instills a cautious, resolute mind-set in case the next encounter isn't.
 
— n.b. the goal of Bulletproof Warrior Training is literally "teaching cops how to escalate, how to see the world as their enemy and how to find the courage to kill more people, more often"
---
May
---
July
Friday, July 5, 5:52 p.m.
Helping downtown Minneapolis survive and thrive
By Editorial Board
Minneapolis is better because of a decade of work by DID ambassadors.
 
— tl;dr the Editorial Board disparages the city for repealing spitting and lurking laws, then extols the visible success and virtue of safety beyond policing downtown via DID, demanding the city invest more in these methods
 
Monday, July 8, 7:34 p.m.
Calls for more cops grow as authorities ID man fatally shot in downtown Minneapolis
Shakopee man is third homicide victim since Memorial Day weekend in downtown Mpls.
 
— tl;dr whomst is calling for more cops? Two white men, Steve Cramer and Joe Tamburino, whose ideas the chief public defender of Hennepin County calls "unconstitutional" in the article
 
Wednesday, July 17, 6:44 p.m.
Another downtown Minneapolis shooting puts spotlight on security plans
By Editorial Board
Gunfire at Crave underscores need for businesses to work with city and police.
May 16 police chief: happy to report a reduction in shootings and violent crime.

July 17 police chief: "never before seen rises in shootings." Please put 400 more cops in the budget. pic.twitter.com/3o7vhOekKI

— Wedge LIVE!™ (@WedgeLIVE) July 30, 2019
---
August
A line of Minneapolis police on horses stands between thousands of protesters and the entrance to the Target Center where Trump is speaking.https://t.co/HoLblfgAf2 pic.twitter.com/9b2E3PdB9P

— UNICORN RIOT 🦄 mastodon.social/@UnicornRiot 👈 (@UR_Ninja) October 10, 2019
---
September
I'm told one Chamber of Commerce question about Minneapolis cops that NOT released to @StribOpinion was whether structural police reforms are needed BEFORE spending more money. "Yes" polled just as high as the publicly released results. Wonder why the Chamber didn't release that?

— David Brauer (@dbrauer) September 9, 2019
---
October
Business community leads PR campaign stoking crime fears then worry the city is acquiring a bad reputation.

— Wedge LIVE!™ (@WedgeLIVE) October 3, 2019
Why isn't this an article about change #MNLeg could take? State could adjust rates so those with least don't pay the most and give more rev tools to Mn Cities.https://t.co/O7jhnu7gV7

— Elizabeth Glidden (@elizglid) October 6, 2019
Monday, October 7, 10:47 p.m.
Detention sought for young repeat Minneapolis offenders
Policy change meant to address Mpls. crime wave.
 
— tl;dr perception of increased crime downtown is tied to one specific group. Minors from the group are diverted from jail to the Juvenile Supervision Center, where some 10 percent to 13 percent walk out after waiting up to 10 hours to be offered shelter or a guardian. Because the jail has significantly more resources than diversion programs, repeat offenders will be sent to jail instead